I believe that being healthy is all about making choices. I am also a strong believer in hamburgers, fries and all that is pie, preferably cherry! But like everything in life, moderation is key. And though I try to eat grass-fed this, free-range that, and non-gmo veggies and fruits, I do like and have a taste for good ol' Jimmy Dean Sage Sausage…. I know, I know. Now before I discover Jimmy Dean Sage Sausage I was not a huge fan of sausage, heck I'm not a huge fan of pork in general.
But this post isn't about Jimmy Dean, oh no, it's about the pretty little Portobello mushrooms that hold the tasty sage sausage mixture. Yup, I'm talking about MUSHROOMS!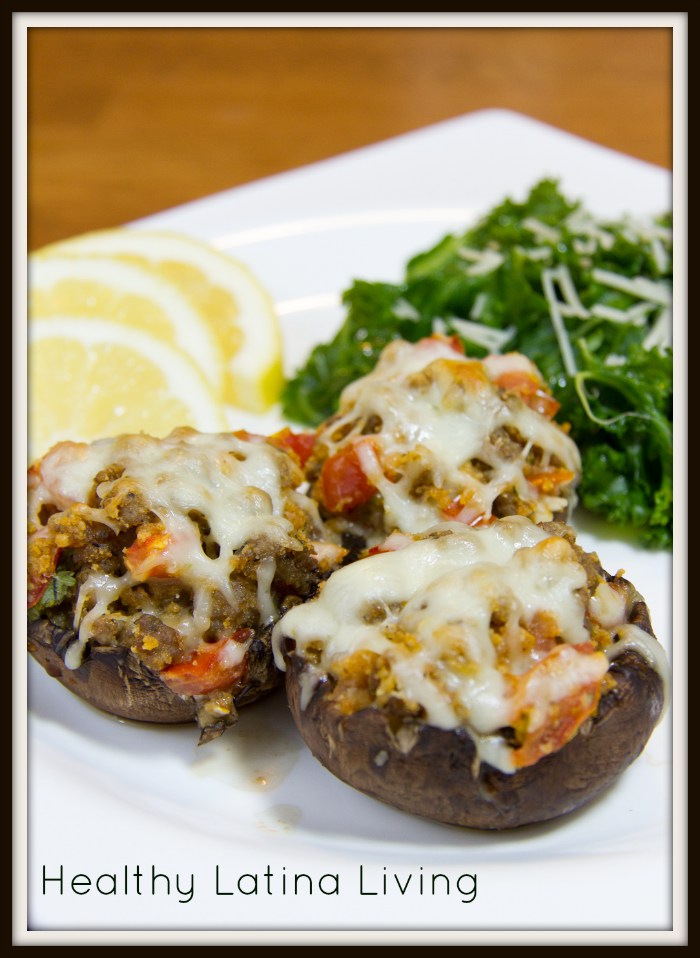 I was surprised to find out recently that button mushrooms (white) and cremini(small brown) are in dead immature strains of a Portobello. I personally try to use mushrooms several times per week, as you know I have a love of pasta with the yummy Mushroom Farfalle. But this week I am sharing you a very quick and easy stuffed mushroom.
Sausage Stuffed Mushrooms
2015-04-15 17:49:42
A quick 30 minute meal!
Ingredients
8 oz Jimmy Dean Sage Sausage (half roll)
1/2 cup Spicy Pico de Gallo (Whole Foods)
1/2 cup Italian Bread crumbs
1/4 cup Parmesan
1/4 cup Monterrey Jack Cheese
6-8 mini Portobello Mushrooms
Instructions
clean mushrooms, removing stem and gills, being careful not to remove rim of mushroom.
saute and brown sausage in pan over med heat, remove any residual oil.
Combine all ingredients in bowl mix well.
Spoon mixture into each mushroom, set on non-stick tray.
Top with a little extra Monterrey jack cheese 🙂
Bake in oven at 350 degrees for 10 minutes.
Enjoy!
Healthy Latina Living http://www.healthylatinaliving.com/
If you are wondering what to serve with the mushrooms, I just love a quick easy side of
Kale
!
Thanks for stopping by today as we continue our journey in the 2015 A to Z Challenge!